Home
>
Core Programs
>
Pokaneloa
PŌKĀNELOA
BACKGROUND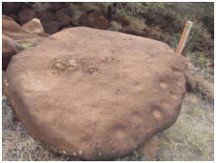 The Kahoʻolawe Island Reserve Commission is responsible for the care and protection of Kahoʻolawe's cultural resources which include archaeological and historic remnants of the island's early inhabitants and for expanding the meaningful cultural use of the island.
The island of Kahoʻolawe was placed on the national Register of Historic Places. Since that time, the island's archaeological remains have been exposed to the continuing deleterious effects of erosion and weather.
Feature BU of National Register Site Number 50-20-97-110, also known as Loaʻa or Pōkāneloa, is a collection of petroglyphs and cupules located on the top surface of a large flat boulder. This 3m by 4m boulder is located along a severely eroded gulch in the hardpan area of the south eastern quadrant of the island. Various studies have been done on the boulder and have suggested that it may possess an archaeo-astronomical significance in Hawaiian culture.
Public listening sessions are being held in hopes to collect mitigation options for this Historical Site. The public will have the opportunity to submit their comments and ideas until the 23rd of October 2012 The collective information will be presented at a Commission meeting a few days later in hopes to agree on either a set of preservation plans or data recovery plans.
Preservation Plans may include options to preserve the stone by stabilization or removal whereas Data Recovery Plans may be to make sure enough data is collected in order to let the stone run nature's course.
Public Listening Sessions will be held on:
Oʻahu
6:00 pm till 9:00 pm
Tuesday October 16th, 2012
at the DLNR Board Room 132
Kalanimoku Building
1151 Punchbowl St.
Honolulu, HI. 96813
&
Maui
9:00 am till 12:00pm
Saturday October 20th, 2012
at Pōmaikaʻi Elementary School
Dining Facility
4650 South Kamehameha Avenue
Kahului, HI 96732
Comments must be submitted no later than the 23rd of October 2012. You may submit your comments via email at pokaneloa@kirc.hawaii.gov, or in writing at Pōkāneloa, 811 Kolu St. Suite 201, Wailuku, Hawaii 96793.
PŌKĀNELOA DOCUMENTATION