The Healing of Kahoʻolawe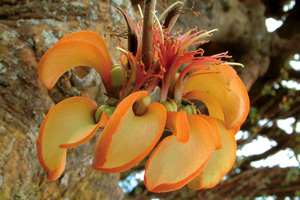 The healing of Kanaloa (Kahoʻolawe) is a physical and spiritual renewal that is deeply rooted in the revival of cultural practices, traditions, and rituals. As a result, activities conducted by the Kahoʻolawe Island Reserve Commission (KIRC) Restoration Program are guided by the need to achieve a more holistic understanding between man and nature and to place strong emphasis on healing as well as environmental restoration.
Cultural integration is a focus within the Restoration Program. Every year, the planting season begins with a ceremony that consists of appropriate protocols, chants, and hoʻokupu given at a series of rain koʻa shrines that were built in 1997. The shrines link ʻUlupalakua on Maui to Luamakika, located at the summit of Kahoʻolawe. Their purpose is to call back the cloud bridge that once existed between Maui and Kahoʻolawe. With the clouds come the famous Naulu rains that are associated with Kahoʻolawe.
Revegetation of the Island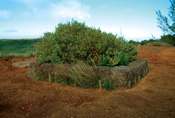 Kahoʻolawe is being planted with native species that include trees, shrubs, vines, grasses, and herbs. More than 100 acres have been planted. As revegetation continues, each acre planted would include up to 20 trees, 500 shrubs, and grasses and vines.
Only about 820 acres of the 12,800 most severely eroded acres will be replanted, but 4,300 acres are targeted for restoration. The remaining land is barren hardpan-soil compacted so severely by erosion that it cannot readily absorb water.
Invasive Species Removal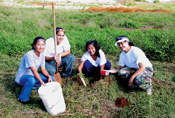 One goal of environmental restoration is to distribute native plant species in abundance and to create a "seed bank" that will enable a native plant community to be assembled. For this to happen, invasive and alien plant species must be removed. Much of the removal is being accomplished using hand and power tools along with herbicide. By reestablishing native species over alien ones, a native Hawaiian dryland forest can be achieved.
Controlling Erosion and Sediment Run-Off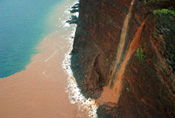 An estimated 1.9 million tons of soil are deposited into the ocean surrounding Kahoʻolawe each year through erosion. The KIRC's Puʻu Moaʻulanui restoration project focuses on reducing sediment flow in stream channels before it reaches the sea by promoting growth of vegetation in those areas.
Many of the erosion control techniques involve the use of pili The pili is grown at the Plant Materials Center, a Molokaʻi facility managed by the Natural Resources Conservation Service. It is then baled and transported to Kahoʻolawe by helicopter.
Water Resources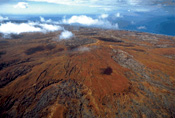 Kahoʻolawe has no standing source of fresh water and groundwater is severely limited. A rain catchment system has been constructed at the island's highest point, Puʻu Moaʻulanui, which collects about 500,000 gallons of water each year. Once established, plants and groundcover will help retain moisture and reduce the need for outside water. Also, reverse osmosis units at Honokanaiʻa are capable of processing thousands of gallons of water a day.
Volunteer Efforts
A $1.5 million grant from the State Department of Health will enable about 1,800 volunteers to participate in restoration activities on Kahoʻolawe over the next three years. Volunteer trips typically focus on watershed restoration and revegetation activities. However, the program also includes talk-story sessions on ancient and contemporary history, current events, and future use of Kahoʻolawe. Volunteers visit significant Hawaiian cultural sites, listen to historical stories, learn chants, and practice cultural protocols as part of the KIRC Culture and Education Program.