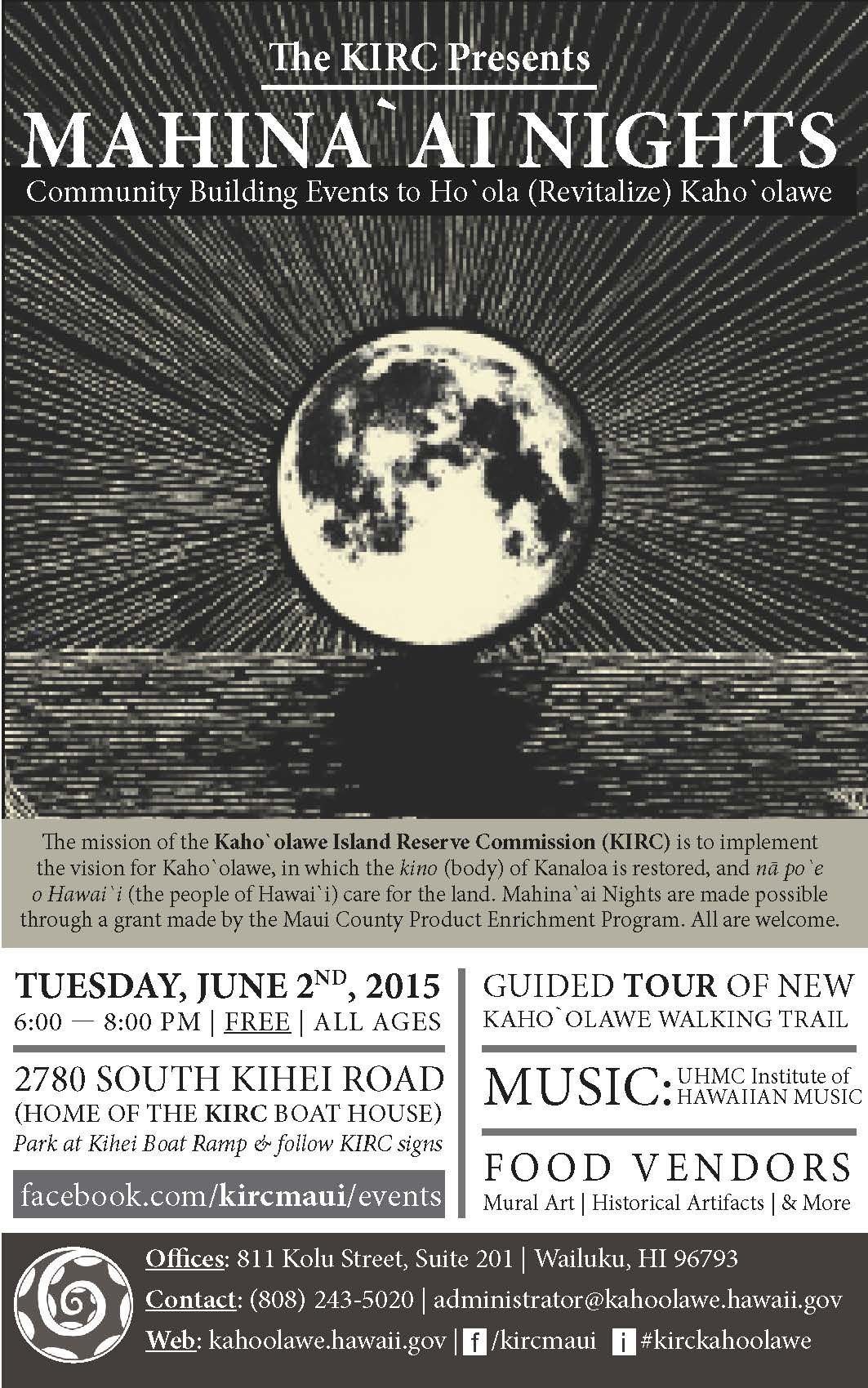 He malihini I ka lā hoʻokahi wale nō,
a visitor for only a day.
2015 Mahinaʻai Nights
Join a guided tour of our walking trail while learning about Kahoʻolawe. Then, gather at the KIRC's native plant nursery, where historical artifacts from Kahoʻolawe will be on display, to enjoy live entertainment provided by University of Hawaiʻi Maui College's Institute of Hawaiian Music. Food vendors will be on site to provide non-alcoholic beverages and appetizers, at a cost.
May 9 | Jun 2 | Jul 31 | Aug 29 | Sept 27 | Oct 27 | Nov 19 (6 - 8 pm).
Please park at the Kihei Boat Ramp parking lot and walk to follow signs for the KIRC (you will see a large, blue banner at the base of our driveway, which is directly adjacent to the actual boat ramp). Tour begins at 6 PM sharp from this point, after which time guests will be escorted to the event site. Mahalo!
2015 Kākoʻo iā Kahoʻolawe Work Days
Make an active contribution to the restoration of Kahoʻolawe by working on the walking trail and native plant nursery to propagate plants for Kahoʻolawe. Complimentary lunch is included for volunteers as program experts share knowledge of Kahoʻolawe restoration techniques and Hawaiian history. May 23 | Jun 27 | Jul 25 | Aug 22 | Sept 26 | Oct 24 | Nov 28 (8 am - 12 pm)
All dates are subject to change. Please visit on Facebook or call (808) 243-5020 to confirm prior to event.
The Mahinaʻai Night event series is designed to strengthen Kahoʻolawe's connection with Maui residents & visitors. By promoting Hawaiian culture and history through mele and moʻolelo with focus on sustainability and conservation, offering guided tours of the KIRC's new Kahoʻolawe walking trail, presenting Hawaiian music & dance, sharing Kahoʻolawe artifacts and more, these important community-building events invite everyone to participate directly in the function and form of this developing public space - thereby participating in the restoration and preservation of Kahoʻolawe.
ABOUT OUR KIHEI, MAUI SITE
For the past year, The Kahoʻolawe Island Reserve Commission (KIRC) has opened the gates to its 8-acre Kihei Boat House property during monthly Kākoʻo iā Kahoʻolawe work days. With grant support through the Atherton Family Foundation, Hawaii Tourism Authority and Hawaiʻi Community Foundation, hundreds of Maui residents and visitors have volunteered their time during these cleanup days in preparation for the Kahoʻolawe educational walking trail, native plant nursery and traditional hale building projects.
With a new grant through the Maui County Product Enrichment Program (CPEP), the KIRC will continue the monthly Kākoʻo iā Kahoʻolawe work days, propagating plants for Kahoʻolawe while exchanging history and information about the Reserve, and implement the Mahinaʻai Nights series; guided tours of the walking trail featuring historical information and stories of Kahoʻolawe, with live entertainment at the new hale and food vendors offering dinner.
MAHALO
Maui County Product Enrichment Program (program sponsor) | Kevin Gavagan & Four Seasons Resort Maui (plants & decor) | Maui Nui Botanical Gardens (centerpiece plants) | Kaʻōnohi Lee (mural brushes) | Malama Maui Nui (mural brushes) | Valentin Miró-Quesada (lead mural artist) | Jennifer Brown & Hannah Potter (assistant mural artists) | Kihei Charter School (property & mural workers) | Hui Kāpehe interns (property workers) | KIRC volunteers (everything, all the time) | Hula Alapaʻi I Malu Ulu ʻO Lele (performers) | UHMC Institute of Hawaiian Music (live music) | Catering from Soup to Nuts / Vineyard Food Company (food vendor)